Order Kevin's Book - Golf Everyone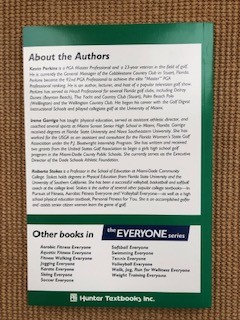 Kevin's Book, Golf Everyone, is 200 pages long and is quite extensive. Details on how to order Kevin's book are included following the table of contents section.
The Following is the table of Contents:
CHAPTER ONE: Why Golf? CHAPTER SIX: Chip Shots CHAPTER ELEVEN: Trouble Shots
Opportunities To Play the Game One Lever Motion Uneven Fairway Lies
Becoming a Golfer Club Selection Specialty Shots
Crossword Puzzle Setting Up for the Chip Crossword Puzzle
The Chipping Stroke CHAPTER TWELVE: Mental Side Make a Plan
Points to Remember Key Emotional Control
Grip Pressure on the Stroke Control Your Swing
Body Action on the Chip Play the Percentages
Selecting the Right Club Take Note of Your Surroundings
Chipping Drills Observe Shots By Other Players
Crossword Puzzle Don't Get Greedy - Stay Disciplined
CHAPTER TWO: Golf-Then and Now CHAPTER SEVEN: Stance & Alignment Make Smart Adjustments Play in the Present
Golf in America Stance (or Posture) Balance the Mental and the Physical
Women's Golf Alignment Keep it Light
Golf Organizations Crossword Puzzle Crossword Puzzle
The History of Golf Equipment CHAPTER EIGHT: Pitch Shots CHAPTER THIRTEEN: Rules of Golf
Golf and the Environment Equipment Golf Etiquette
Crossword Puzzle Grip The Rules of Golf
CHAPTER THREE: Equipment Set - up Crossword Puzzle
Clubs Alignment CHAPTER FOURTEEN: Preparing to Play
Parts of the Golf Club The Full Pitch Understanding Handicaps
Selection and Purchase of Equipment Rhythm Types of Competition
The Ball Clubface Position Exercises for Golf
Golf Bags Points to Remember Crossword Puzzle
Dress Common Mistakes APPENDIXES
Crossword Puzzle Pitching and Full Swing Drills The Rules of Golf: A Helpful Chart
Crossword Puzzle Lab 1: Why People Play Golf
CHAPTER FOUR: Putting CHAPTER NINE: Full Swing Lab 2: Leading Men and Women Golfers
Equipment The Backswing Lab 3: Shopping for Golf Equipment
Grip Key Points of the Backswing Lab 4: Putting Drills
Stance The Transitional Part of the Swing Lab 5: Golf on Television
Alignment The Forward Swing Lab 6: Chip Shot Drills
Speed of Play Key Points of the Forward Swing Lab 7: Stance and Alignment Drills
The Putting Stroke Understanding Ball Flight Lab 8: Golf on the Internet
Final Tips Drills for the Full Swing Lab 9: Full Swing Practice
Putting Drills Crossword Puzzle Lab 10: Golf Magazine Article
Crossword Puzzle Lab 11: Viewing a Golf Tournament
CHAPTER FIVE: The Grip CHAPTER TEN: Bunker Shots Lab 12: Mental Readiness for Golf
The Overlapping Grip The Green Side Bunker Shot Lab 13: Playing a Round of Golf
Grip Variations Key Thoughts for Bunker Shots Lab 14: Golf Exercises
Grip Pressure Controlling Distance Glossary
Grip Practice Equipment Changes in Controlling Distance References
Crossword Puzzle Trouble Shots out of a Green Side Bunker
Fairway Bunker Shots
Bunker Drills
Crossword Puzzle
Kevin's Book, Golf Everyone, May be ordered below at a cost of $30.00, which includes shipping. Please let us know where you would like the book to be shipped by emailing Kevin at dkperkins4@cs.com, or by texting or calling Kevin at 561 301-3783. Thank you very much!
Kevin's Kures
Kevin's Weekly Column In the St. Lucie Voice

Kevin has the privilege of writing a weekly column for the St. Lucie Voice, called Kevin's Kures.
The St. Lucie Voice is a weekly paper distributed to over 25,000 households in the Port St. Lucie, Florida neighborhoods of; St. Lucie West, PGA Village and Tradition.
Please CLICK HERE to go to the latest edition of Kevin's Kures....ENJOY!!!